We all know that search engines are the best way to find dating sites online. However, if you aren't specific, you can spend hours searching and never find the right site for you. What do I mean? Let's look at an example. I just did a search on Google, Yahoo! and MSN for the search term "dating". Here's what I found: 138,000,000 results on Google, 256,000,000 on Yahoo! and 120,905,709 on MSN. Uh oh. Which sites are the best for me? Who knows. You'll have to just start clicking on links to find out.
However, if you'll use some simple search engine techniques to narrow your searches, you'll find that searching the web for dates online can become a much easier process than shuffling through 100's of millions of sites. Since Google is still used by more searchers than any other search engine, the following tips will apply to Google specifically.
Tip #1: Be Specific
What type of person do you want to meet online? Christian, Jewish, BBW, Military, African American... Instead of just searching for dating, why not search for Christian Dating Sites or African American Dating Sites. You'll find the available list of sites dramatically lower, and the sites that come up will be much more specific.
Tip #2: Use Advanced Search Techniques
[allinurl]: Used when looking for a site with exact wording in the url. For example: Search for allinurl:ChristianDatingNetwork. What you'll find is that every search result is from a site that has the words ChristianDatingNetwork in the url.
[allintitle]: Similar to allinurl except for the words will appear in the title of the site. This is a great search to use because you may have heard someone at a party or at work mention a dating site to you, but you can't remember the url, but you do remember they called it something. Using the same example above, search for allintitle:Christian Dating Network. As you'll see, the results are for sites with the exact words Christian Dating Network in the title. Another reason this search is so valuable is because many dating sites have a different title than their url. So, if you can't remember the url, but you can remember the title, then use the [allintitle:] search.
Tip #3: Use the "OR" search
My favorite search technique. What if you want to find dating sites for BBW (Big Beautiful Women) OR Military singles? Use the "OR" search. For example: Search for BBW OR Military Dating Sites. Be sure to include the "OR" in all caps for the search to work. Now, look at the results. All of the results are for sites that pertain to either BBW or Military Dating sites as well as sites that pertain to them both. Excellent search to find resource sites that cater to both of your needs.
Tip #4 Use the "Domain" search
What if you know the url of the dating site you want, but you want to know if it caters to singles you are looking for? For example: eharmony is a very popular online dating site that is currently doing a massive amount of television advertising. Let's say you are Jewish and wonder if they cater to Jewish singles. A simple way to find out if Jewish is mentioned on eharmony is to do the following search: jewish site:www.eharmony.com. All you have to do is put the term you are looking for followed by a space and then the word "site" and a colon and the url you are looking for. In this example, 9 listings came up for Jewish within eharmony.
I hope the above tips will help you find a date online in a quicker and more efficient fashion. The internet has made finding love online easier, but because of the vast number of dating sites catering to singles these days, you need to use some of the shortcuts mentioned above, or you'll waste valuable time searching through meaningless results.
Good luck and happy dating!

FRIENDSATION
is a brand new online dating site and social blogging network for people who are looking for a free online dating, match dating, dating personal, internet dating, adult dating, and many more!

MobileJam launched Friendsation.com July 8th, a free dating/friendship community focusing heavily on mobile phone technology. Friendsation.com will bring free instant messaging, online dating and mobile flirting into one interactive community. Members will have access to user profiles, photo galleries, blog diaries, instant messaging, pc to pc chatting and pc to mobile as well as the ability to send video messages to friends or love interests all at the touch of their keypads. Also, mobile blogging.  Friendsation.com will be available to mobile phone networks in September.
---
Talk121.com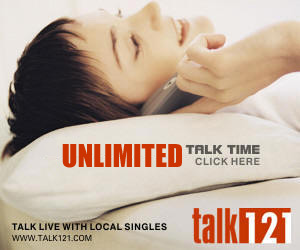 Talk 121
The Talk121 dating service is a fantastic way for guys and gals to make new friends, for both long term relationships or short term casual encounters. Meeting people on Talk121 is not only fun, but it is safe as well. There are thousands of men and women that call Talk121 every day and chat. Women - get unlimited free talk time. Men - get 60 minutes free talk time. (Chat on Phone with Sexy Singles, First 60 Mins Absolutely Free!)